NEW PRODUCTS InfoComm 2017
EdgeMax™ in-ceiling premium loudspeakers
with PhaseGuide® technology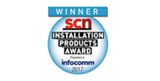 EdgeMax™ in-ceiling premium loudspeakers feature proprietary Bose PhaseGuide® technology to create a new category that combines the room-filling coverage patterns typical of larger surface-mount speakers with the architect-preferred aesthetics of in-ceiling models. Designed to
mount near wall-ceiling boundaries, EdgeMax loudspeakers provide improved audio quality and coverage, while reducing the number of required units.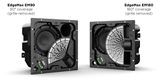 PhaseGuide technology produces unique asymmetrical vertical pattern for room-filling sound

EdgeMax EM90 provides nominal 90° horizontal coverage from room corners

EdgeMax EM180 provides nominal 180° horizontal coverage from center ceiling-wall locations

Full-frequency range 60 – 18,000 Hz (-10 dB)

Maximum SPL up to 119 dB continuous and 125 dB peak

2-way system combines Bose 1.3"-diaphragm compression driver and 8" woofer
Passive crossover with 8 Ω or 70/100V transformer taps

New auto-hold, spring-loaded mounting arms for fast, easy installs; Ships with tile bridge

UL1480 listing for air-handling (plenum) space installation

Magnetically attached white grille for quick access to wiring and tap settings

Black grille and rough-in pan accessories will be available
Panaray® MSA12X modular steerable array loudspeaker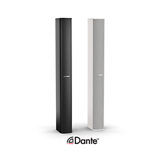 The Panaray MSA12X loudspeaker advances the Bose Professional line of modular arrays with a self-powered electronically-steerable loudspeaker offering consistent audio levels with outstanding vocal intelligibility and fullrange music reinforcement.
Full-frequency range 75 – 14,000 Hz (-10 dB)

Articulated Array® design produces wide, 160° horizontal coverage

12x full-range 2.25" transducers with onboard 600 W amplification

Integrated DSP allows digital control and dual-beam steering per module

Four beam algorithm modes: steer/spread, asymmetrical steer, and spiral

Independent level and EQ control per-beam, with a ten-preset memory

Integrated bracket system for up to 90° pivoting from wall

Dante™ network audio and line-level analog input connectivity

Slim, unobtrusive aluminum design in both white and black

Design, setup, and control of beam coverage using Bose Modeler® and ControlSpace® software
ControlSpace® EX conferencing solution
The ControlSpace® EX conferencing solution is a Dante™-based processor and under-table endpoint system designed to streamline the implementation of conference room audio through:
Seamless microphone integration

Comprehensive connectivity from one DSP model

Simplified software configuration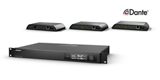 ControlSpace EX-1280C conferencing processor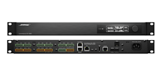 Open-architecture, 1RU design

12x8 balanced I/O

12-channel routable AEC

64x64 Dante audio networking

All-in-one VoIP, PSTN & USB

2-line VoIP with web configuration for IT

USB port for PC soft codecs

PSTN for analog telephone connections

8-channel Bose AmpLink output

Serial control via RS-232 and Ethernet

Front-panel interface with OLED display

Simplified software configuration
ControlSpace EX under-table endpoints
Daisy-chainable network and power

Dante audio networking with PoE

Slim profile with mounting options
EX-4ML
4 Mic Ins · 48V phantom · Logic In/Out · Mic LED power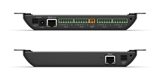 EX-UH
USB · RJ-9 · 3.5 mm TRRS analog I/O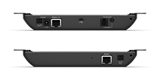 EX-8ML
8 Mic Ins · 48V phantom · Logic In/Out · Mic LED power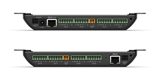 Bose® MB210 compact subwoofer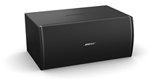 The new MB210 compact subwoofer is designed for background/
foreground music and small sound-reinforcement systems that
require low-frequency extension down to 37 Hz. Featuring outstanding performance-to-size ratio, the MB210 is designed to complement FreeSpace®, Panaray®, and RoomMatch® Utility loudspeaker models with additional bass impact
2x 10" high-excursion woofers

500 W long-term power handling

123 dB SPL continuous with 129 dB peak SPL (half-space load)

41 lbs (18.6 kg), ships with U-Bracket, available black or white
Bose® AmpLink digital audio transport
AmpLink provides a digital audio connection from supported ControlSpace processors to AmpLink-equipped Bose amplifiers.Daisy-chainable AmpLink uses standard RJ-45 connectors and CAT 5 cables to transport up to 24 channels of low-latency, uncompressed digital audio. Available on the ControlSpace EX-1280C processor, new amplifier models and a new PowerMatch® expansion card.