The right sound system can empower students, unleash teachers, and turn an entire campus into a thriving classroom.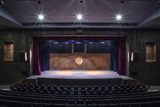 Why Bose
Clear sound has always been essential to education, but today it's more important than ever. We offer solutions that support every corner of the campus: classrooms, lecture halls, theaters, activity centers, dining halls, common areas, courtyards, labs, and administration buildings. All to help ensure education fulfills its purpose: transformation. This mission is at the heart of Bose Professional — learn about our special relationship with MIT.
In the classroom
Teaching is all about communication, so our classroom audio solutions make it easier to hear and understand teachers even in the largest halls. Bose Professional loudspeakers offer superior vocal intelligibility so students can hear clearly and stay focused from every seat.
On stage or on the field
Performances — whether on stage or on the field — can inspire, enliven, and bring a college community together like nothing else. So our audio solutions are built to help keep the audience engaged — at the performing arts center, out on the quad, or in the bowl.
Everywhere in between
So much of college life happens outside the classroom. We offer a full line of portable sound systems to fill those spaces you need to equip right away, whether it's a special event during commencement, a post-graduation party, alumni dinner, or a club activity.

Arcadia High School Performing Arts Center

Cecil College Milburn Stone Theater

Clemson Littlejohn Coliseum

Grissom High School

Humanitas University Theatre

Todd Performing Arts Center at Chesapeake College
"When we did the final walk-through of the venue after installation, we measured the coverage with pink noise and it was exactly what the Bose software predicted: a negligible difference between the best seat and the most distant seat in the house. It was an impressive accomplishment."

Dick Peterson
CFE, Executive Director of the Todd Performing Arts Center

Case Studies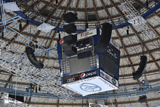 Breeden Fieldhouse – Montana State University
Learn how the Bose sound system enabled the University to host a broader range of events.
Read more