Innovation supporting inspiration
From powerful message to a shared sense of mission — worship needs to capture the heart.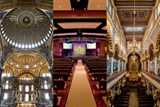 Why Bose
In living rooms and school auditoriums. In open-air courtyards and granite cathedrals. Worship is about connection. Wherever you gather, we have a range of sound solutions to support everything from spoken word and delicate poetry to high-energy contemporary worship, drama teams, and youth groups.
Flexible options
Some worship spaces are temporary or simply functional. Some are abiding works of art. We offer options for both and our systems can grow with you: from portable PAs to fill a space at a moment's notice to installed systems that support an entire campus — sanctuary, kids room, classroom, lobby, café, and more.
Simple operation
Bose Professional system electronics offer reliable, easy-to-use controls — many with smart functions that can be programmed to run automatically — making the system easier to operate and helping to keep frustration and distraction out of the worship service.
Clear inspiration
In places of worship, sound equipment shouldn't be the center of attention. It should support the worship experience. Innovative technology and design help our products work within the sight lines and visual design of nearly any worship space, and offer both clear speech and natural-sounding music.
Apostles

Cross Church

Crossgate Church

Our Lady of Good Counsel

Sandals Church

St. Anthony Church
"It has a real warmth you don't usually get with a big PA system. It felt like it was right there in the room with you."
Kevin Knox
Media & Communications Director, Church of the Apostles