So the fans feel every second

From the sideline to the concourse, great sound should deliver an unforgettable experience.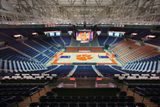 Why Bose
In live sports, sound is one of the most important players. It needs to be powerful in the bowl. Full but not overpowering in the suites and restaurants. Even and consistent as you walk the concourse. So, for every audience space, we've developed full solutions to keeps fans energized.

Complete systems to suit any venue
Of course, loudspeakers are only as good as the system supporting them. So we've created an entire range of complementary products, such as Bose PowerMatch amplifiers and ControlSpace DSPs, to ensure your sound reinforcement system has everything covered.
Better sound quality, consistency, and vocal clarity
When it comes to sound reinforcement in large spaces, you need more than raw power. You need precision. And you need more than coverage. You need control. That's why we invented DeltaQ array technology. Power and precision. Coverage and control.
Flexible options for any space
Whatever the situation, we have sound reinforcement solutions to meet the need. For indoor installation: RoomMatch loudspeakers. For touring and rental applications: ShowMatch loudspeakers. And for outdoor installation: ArenaMatch loudspeakers.

Breeden Fieldhouse at Montana State University

Clemson Littlejohn Coliseum

Estadio BBVA Bancomer

Mo Ostin

Philips Stadium

Philly Skate
"Before last May, when the new system was installed, the ways we could use the Fieldhouse were rather limited. But since the new system went in, it's been wonderful. There are no more complaints about the sound; instead, there are compliments about it, including from the additional customers who rent the space."

Melanie Stocks
Director, Brick Breeden Fieldhouse

Case Studies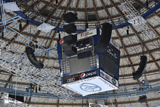 Breeden Fieldhouse – Montana State University
Learn how the Bose sound system enabled the University to host a broader range of events.
Read more