Overview
ES1 Ceiling Audio Solution
More than fully integrated. Truly integrated.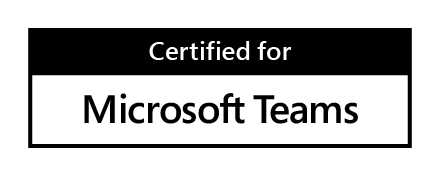 Clear the table for better collaboration. Part of the Bose Work family of conferencing products, the Bose ES1 Ceiling Audio Solution is a complete conferencing system for fully integrated meeting rooms. It combines the premium performance of the Bose EdgeMax in-ceiling loudspeaker and Sennheiser TeamConnect Ceiling 2 microphone — along with a Bose amplifier and DSP — to deliver a seamless meeting experience that empowers productivity. It's a complete room audio solution, ready for quick deployment and configuration of the electronics, reducing installation time.
The ES1 system is more than fully integrated — it's truly integrated. Completely out of the way. With fewer devices on walls and tabletops, meeting participants can stand, sit, or move around the room freely with the confidence that they'll hear and be heard.
With the ES1 system, it's easier for teams to focus on ideas, move projects forward, and work better, together.
Deliver a truly integrated premium conferencing solution, combining the directional EdgeMax EM180 loudspeaker, Sennheiser TeamConnect Ceiling 2 microphone, ControlSpace EX-440C processor, and PowerSpace P2600A amplifier

Clean up the conferencing experience with fewer devices on walls or tabletops, giving people the freedom to focus on work, the flexibility to sit or stand anywhere in the room, and the confidence that they'll hear and be heard clearly
Bring clarity and intelligibility to large meeting rooms with superior echo-cancelling technology, so remote meeting participants can communicate freely and feel like they're in the room
Deploy quickly with reference configurations that help reduce installation time
Combine with popular unified communications platforms such as Microsoft Teams, Zoom, Google Hangouts Meet, and more, to provide enhanced audio performance in fully integrated meeting rooms
Build trust with end-users by offering an integrated conferencing solution from globally respected audio companies that they already know and recognize as premium brands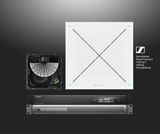 Products
Sennheiser TeamConnect Ceiling 2 microphone
Quick and easy to install, the TeamConnect Ceiling 2 microphone features patented automatic beamforming technology with a single beam. This allows the microphone to adapt to room conditions without reconfiguration. No matter how the room is set up or how the participants in the room want to hold the meeting, they'll gain more flexibility and complete "freedom of speech" as the TeamConnect Ceiling 2 microphone adapts to their needs.
Bose EdgeMax EM180 loudspeaker
The EdgeMax EM180 in-ceiling loudspeaker features proprietary Bose PhaseGuide technology. This unique loudspeaker design combines the room-filling coverage patterns typical of larger surface-mount speakers with the architect-preferred aesthetics of in-ceiling models. Designed to mount at the front of the meeting room above the room's display screen, EdgeMax loudspeakers draw attention toward the screen for a more natural and less fatiguing conferencing experience.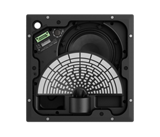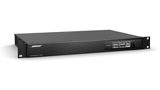 ControlSpace EX-440C processor
With an open-architecture, all-in-one design, the ControlSpace EX-440C conferencing processor facilitates high-quality microphone integration and audio processing for small- to medium-size conference rooms. Various inputs and outputs allow for flexible configuration: four mic/line analog inputs, four analog outputs, onboard VoIP, PSTN, USB, Bose AmpLink output, eight-channel acoustic echo cancelling (AEC), and 16 x 16 Dante® connectivity. ControlSpace Designer software simplifies the setup process with drag-and-drop programming, making configuration quick and easy.
PowerSpace P2600A amplifier
Bose PowerSpace amplifiers enhance any conference room with clean, reliable power — and digital connectivity. The PowerSpace P2600A provides 600 watts per channel, and a Bose AmpLink input allows for multiple channels of uncompressed, low-latency digital audio from Bose DSPs via a single Cat 5 cable.